About Us
The tiled entry, featuring a Greek key border and the words "Carnegie Building" in mosaic, acknowledge the authenticity of the building.
The Greek Revival building's interior has gilt embossed columns, elegant oak archways, and a portrait of Andrew Carnegie over the east fireplace.
The library is a distinctive and beloved historic monument celebrating the enterprise and culture of the people of Harriman, Tennessee.
2022 BOARD MEMBERS
Mary Kaye Eisenberg, Chair
Bear Tidwell, Vice-Chair
Julie Garland, Secretary
Lonnie Wright, City Council Representative
Rachel Wright
Linda Peterson
Keta Mize
LIBRARY STAFF
Tammie Edwards, Director
Connie Massingill, Children's Librarian
Carmen Eubacks, Cataloguer/Front Desk Librarian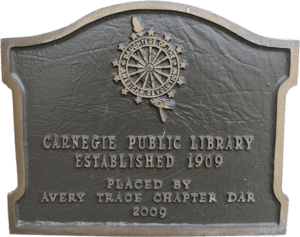 Our Story: Since 1909
The October 1, 1909 edition of THE HARRIMAN RECORD describes opening ceremonies: "The laying of the cornerstone of the Carnegie library building was held Wednesday forenoon. The event call out the people of Harriman to the number of over two thousand."
Our Mission & Vision
The mission: Friends of the Harriman Public Library promotes and
supports the activities of the Library. While the Library is a tax funded institution, budget cuts take their toll and libraries often fall to the bottom of the priority list. Whether fundraising or volunteering, community support enables us to continue our mission.
Get Involved
Harriman's Historic Carnegie Library, today a vibrant centerpiece of local culture, started with the efforts of Mrs. Robert F. Armstrong, president of the Library Board, Mayor Claude E. Hendrick and the City Council to obtain a $10,000 grant from the Andrew Carnegie Foundation in 1909.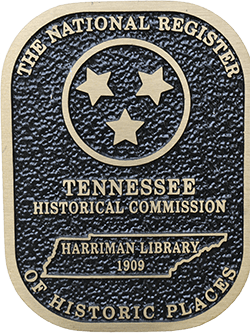 Library Hours
Mon - Thurs: 9am - 6pm
Fri : 9am - 2pm
Sat: 9am - 1pm
Sun: Closed